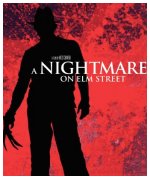 A Nightmare on Elm Street
1984










Years after being burned alive by a mob of angry parents, child murderer Freddy Krueger (Robert Englund) returns to haunt the dreams -- and reality -- of local teenagers in Wes Craven's spine-chilling slasher classic. As the town's teens begin dropping like flies, Nancy (Heather Langenkamp) and her boyfriend, Glen (Johnny Depp, in his big-screen debut), devise a plan to lure the monster out of the realm of nightmares and into the real world.

Horror, Supernatural
Related Titles
Random Titles

5










One of the classics of modern horror. Older movies such as these won't have you screaming and crying, but it is a part of horror genre history! One of the great fictional horror gods is born in this movie! I recommend!