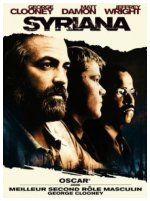 America is at the beck and call of the Middle East when it comes to the oil industry, and all its players -- Washington, sheiks, oil companies, field workers -- intersect with each other in this political thriller from director Stephen Gaghan. The star-studded cast includes Matt Damon, Amanda Peet, Chris Cooper, Christopher Plummer and George Clooney, who won a Best Supporting Actor Oscar and Golden Globe for his role as CIA operative Bob Barnes.
Drama, Spy, Thriller
27










Rather uninteresting story trudging slowly onward. Surprising they couldn't do better, since the cast is fairly good. More akin to a really slow documentary than a good film.