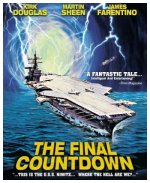 What if a 1980s American aircraft carrier (with its modern firepower) time-warped back to Pacific waters just outside Pearl Harbor on December 7, 1941? World history -- and the U.S. entry into World War II -- might have played out very differently. Given that scenario, should the crew prevent the disaster, or let history remain? That's the intriguing premise in this sci-fi adventure that stars Kirk Douglas, Katharine Ross and Martin Sheen.
Action, Adventure, Fantasy, Sci-Fi
27










Decent concept and execution, but the ending - while okay - felt hurried and not up to the full potential of the imagination they could have expressed in this film.