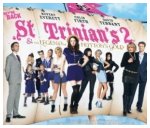 St Trinian's 2: The Legend of Fritton's Gold
2009










When the troublemaking girls of St. Trinian's discover that their headmistress Miss Fritton (Rupert Everett) is related to an infamous pirate, they square off against the evil Pomfrey (David Tennant) and his menacing group of woman haters on a hunt for buried treasure. Colin Firth returns as stuffed-shirt education minister Geoffrey Thwaites. Gemma Arterton and Russell Brand also star in this adaptation of the work of cartoonist Ronald Searle.

Comedy
27










Rupert Everett was more tolerable in this one, though the story was better in
St. Trinian's
. Still the same wacky school, girls, and antics though - so the movie is a far-fetched yet amusing joyride.