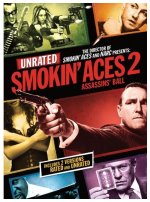 Smokin' Aces 2: Assassins' Ball
2010










In this comic shoot-'em-up prequel to 2006's Smokin' Aces, Tom Berenger stars as Walter Weed, a lawman assigned to safeguard a mob informant in witness protection against a lethal assassin named McTeague (Vinnie Jones). But Weed might be out of his depth when other assorted bounty hunters, contract killers and assailants -- including the psychotic Tremor clan -- zero in his witness. Ernie Hudson and Autumn Reeser co-star.

Action, Adventure, Comedy, Thriller
27










The intro section was excellent, but after that it got pretty slow for a while. Another action movie with a messed up excitement curve. The story was passable.