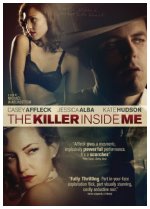 The Killer Inside Me
2010










West Texas Deputy Sheriff Lou Ford (Casey Affleck) is harboring a deep dark secret -- while the small town's residents think him a bit dim, Lou is actually affected by a "sickness" that turns the mild-mannered peace officer into a brutal, psychotic killer. Set in the 1950s, Michael Winterbottom's adaptation of Jim Thompson's classic noir novel co-stars Kate Hudson as Lou's innocent girlfriend and Jessica Alba as Joyce, a local prostitute.
Book, Drama, Thriller
27










Casey Affleck is fantastic as a cold killer in this retro film - but Jessica Alba gives a performance worthy of Megan Fox. Kate Hudson and Simon Baker aren't great either. The story is solid and engaging, though graphically violent in parts.