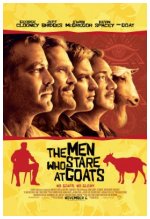 The Men Who Stare at Goats
2009










Journalist Bob Wilton (Ewan McGregor) latches onto an unbelievable story in Iraq when he meets Lyn Cassady (George Clooney), a man of mysterious origins who reveals he was a "warrior monk" trained by the U.S. Army to develop psychic powers. Jeff Bridges co-stars as Lyn's mentor, the man who dreamed up the top-secret operation. Kevin Spacey and Rebecca Mader co-star in this Grant Heslov-helmed wild spoof.
Comedy

10










With such wonderful cast and somewhat good idea for a story, this film falls short. Maybe it is because there is little point in it all, and the characters don't really get ones sympathy. Seeing Ewan called Jedi was cool though ;)
27










Sometimes you have to wonder why a movie was made.