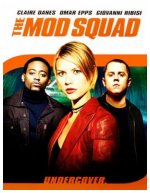 Three troubled teenagers are given a second chance when Capt. Adam Greer (Dennis Farina) offers to expunge their criminal records if they go undercover for the Los Angeles Police Department in this stylish crime flick inspired by the classic television series. Lincoln Hayes (Omar Epps), Pete Cochrane (Giovanni Ribisi) and Julie Barnes (Claire Danes) soon become reluctant recruits in a world where the cops can sometimes be as dirty as the criminals.
Action, Mystery, Thriller
27










Offbeat police squad is a good concept, but the execution was terrible.