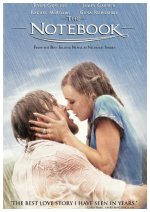 Two young lovers (Ryan Gosling and Rachel McAdams) are torn apart by war and class differences in the 1940s in this adaptation of Nicholas Sparks's best-selling novel. Their story is told by a man (James Garner) who, years later, reads from a notebook while he visits a woman in a nursing home (Gena Rowlands). Nick Cassavetes directs this heart-tugging romance about the sacrifices people will make to hang on to their one true love.
Book, Drama, Romance

4










Love this movie! Nicholas Sparks & Rachel McAdams = awesome.