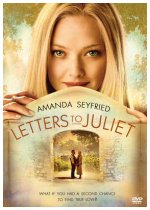 By responding to a letter addressed to Shakespeare's tragic heroine Juliet Capulet, a young American woman (Amanda Seyfried) vacationing in Verona, Italy, sets in motion a series of events that leads her -- and the missive's lovelorn author (Vanessa Redgrave) -- in search of romance. Directed by Gary Winick, this deeply tender and uplifting drama also features Gael García Bernal and Franco Nero.
Drama, Romance
27










Super predictable. Amanda Seyfried is good as usual, but her 'fiancee' Gael Bernal was blatantly annoying, and the rest of the cast is just passable. Additionally, the musical score was terrible - with a bunch of trite pop love songs loudly inserted.

15










Italian setting, romance with some humor thrown in--what more could you want? Not an action flick, but really enjoyed every minute. Predictable, but not too sappy, just good clean fun--and good chemistry between characters.