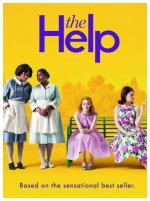 In 1960s Jackson, Miss., aspiring writer Eugenia Phelan crosses taboo racial lines by conversing with Aibileen Clark about her life as a housekeeper, and their ensuing friendship upsets the fragile dynamic between the haves and the have-nots. When other long-silent black servants begin opening up to Eugenia, the disapproving conservative Southern town soon gets swept up in the turbulence of changing times.
Comedy, Drama

22










An unsettling look at racism and segregation in 1960's Mississippi. Almost painful to watch at times, but in a good way. Searing and heartfelt, my wife and I had to pause a few times to gather our thoughts. How was this normal only 50 years ago?

15










A delight from start to finish. Casting is perfect! Compelling story and true-to-life characters you wish you really knew. Loved every minute.
27










Not as funny as the trailer portrayed, but a touching drama about 60s southern racial dynamics. The cast was chosen well, and I thought the humorous yet human way Jessica Chastain portrayed a new-money socialite was outstanding.