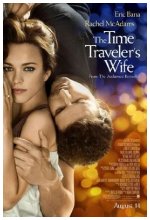 The Time Traveler's Wife
2009










Due to a genetic disorder, handsome librarian Henry DeTamble (Eric Bana) involuntarily zips through time, appearing at various moments in the life of his true love, the beautiful artist Clare Abshire (Rachel McAdams). Also starring Ron Livingston as Gomez, the soul-stirring romantic drama was adapted from the best-selling Audrey Niffenegger novel by Bruce Joel Rubin, the screenwriter behind the beloved weepy Ghost.
Book, Drama, Romance

9










I heard bad reviews about this movie and they were wrong. wasnt too slow or too fast. dialogue was good. Eric Bana and Rachel McAdams were great

15










I had read the book first, so wondered if it would translate well to film. McAdams was spot on, and the movie captured the spirit of the story amazingly well.
27










An excellent romance with good performances all around.