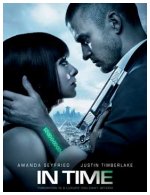 In a near future where aging stops at 25, time is the new currency and the wealthy can live forever. When Will Salas inherits decades of life from a wealthy murdered man, he's pegged as the suspect by the corrupt Time Keepers, who enforce the law.
Action, Adventure, Fantasy, Sci-Fi, Thriller

15










Very interesting premise--provides plenty of food for thought. Not a fan other of the main actors, but liked them in these roles. Well written, well acted. Recommended viewing!
27










Average entertainment value, but thought provoking. The plot was fairly unique as well, and paced nicely.