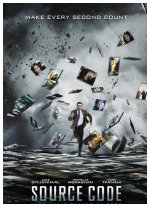 Jake Gyllenhaal portrays a soldier recruited for a time-bending government investigation that places him in another man's mind and body, reliving the same traumatic event repeatedly in an effort to identify the perpetrators of a terrorist bombing. Vera Farmiga plays a communications specialist who provides the vital link to the soldier's primary reality as he searches for critical clues within a recurring nightmare.

22










A time loop mystery movie with plenty of intrigue and an extremely human element. Jake Gyllenhaal is great in his role, while the supporting cast doesn't get in the way. Some holes exist in the story, but the plot is brisk enough to overcome them.

12










Good all around movie but I didnt like the end of it.

15










Good acting all around. Not usually a Gyllenhaal fan, but liked him a lot in this. Vera Farmiga was just perfect. A few tedious parts, but overall excellent.
27










Good casting, especially Vera Farmiga - she was perfect for that role. The ending could have been a bit more shocking/artistic if they had just cut it off, but it probably wouldn't have played as well with audiences.