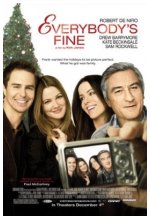 Frank (Robert De Niro) just lost his wife, and without their mother by his side, Frank's grown children aren't compelled to visit for the holidays. So he hits the road to visit them -- collecting various revelations and learning about himself along the way. Drew Barrymore, Kate Beckinsale, Sam Rockwell and Melissa Leo co-star in writer-director Kirk Jones's family tale, an update of Giuseppe Tornatore's 1990 Italian film.
Drama
27










Very solid cast and good acting across the board. Nothing super exciting happens, but it rings true as a family drama.

15










A tearjerker, but not a sappy or contrived one. Excellent acting by De Niro with a great supporting cast.