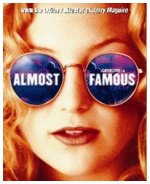 In this enchanting coming-of-age story based on director Cameron Crowe's own experiences, teenage writer William Miller (Patrick Fugit) cajoles a Rolling Stone editor into handing him a plum assignment to cover the band Stillwater on a cross-country tour. Kate Hudson earned an Academy Award nomination for her portrayal of band groupie Penny Lane, while Crowe won the Oscar for his original script. Jason Lee and Billy Crudup co-star.
Comedy, Drama

15










Never seen a movie so 100% perfectly cast. Total immersion into the '70's rock world. Hudson mixes flashes of the innocent and wistful with worldly abandon, and the band and kid are spot on. Even the music composed for the film feels authentic.
27










Respect the music. Party with the band. Watch the movie.