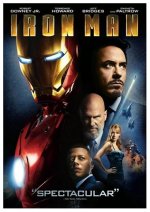 After escaping from kidnappers using makeshift power armor, an ultrarich inventor and weapons maker (Robert Downey Jr.) turns his creation into a force for good by using it to fight crime. But his skills are stretched to the limit when he must face the evil Iron Monger. Gwyneth Paltrow, Jeff Bridges and Terrence Howard also star in director Jon Favreau's tongue-in-cheek superhero tale based on the popular Marvel comic.

Action, Adventure, Superhero, Thriller

16










Good solid popcorn flick. Makes me want to build my own supersuit, which is exactly the point. Potts has the magic power to run on a grated floor with heels!

15










Not into superheroes until I watched this movie. Good action, good characters,and Downey is mesmerizing.
27










Best superhero film I've seen, surpassing even
The Dark Knight
. Robert Downey Jr. is hilarious, and Gwyneth Paltrow is great as well. The whole cast fits perfectly, and the plot is pretty good too.

14










Robert Downey Jr. plays Tony Stark to perfection and aside from Christian Bale's take on Batman in TDK no one has personified their funny book character in quite the same way. As such Iron Man is quite possibly the best origin tale set to film.