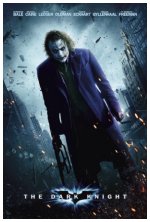 In this blockbuster sequel to Batman Begins, the caped crusader (Christian Bale) teams with Lt. James Gordon (Gary Oldman) and District Attorney Harvey Dent (Aaron Eckhart) to continue dismantling Gotham City's criminal organizations. But a psychotic new villain known as the Joker (Heath Ledger, in a Golden Globe- and Oscar-winning role) threatens to undo all their good work. Maggie Gyllenhaal, Morgan Freeman and Michael Caine also star.

Action, Adventure, Fantasy, Sci-Fi, Superhero, Thriller

16










Very good, but still not quite as good as Batman Begins. Everyone says Ledger is awesome as the Joker... and everyone is right.










Excusing Bale's over the top growl, this film is utterly amazing. Ledger's performance steals the show. A pity we'll never see the Joker and Harley Quinn in this universe. Ledger's untimely death was tragic, and a terrible loss for film.










Excellent movie from beginning to end. The acting was phenomenal with one hiccup: Batman seems to growl at times.

9










The story line is great, and the Joker is simply amazing. The movie revolves around the premise that the bad guy is not pure evil, but righteously motived in his bad guy ways. My only complaint is that Batman talks like a constipated douche.

9










I actually like Bale's Batman, so this gets the full 5 stars from me. Ledger's Joker is exactly how Joker should be, very powerful performance. A shame that we won't be able to see him again in any sequels. Two-Face made for a great side villain.

8










Not a fan of violence (I paused whenever I thought someone was going to die), but I have to admit that it was an incredible movie. Ledger's performance was chilling. Intense










Heath ledger made this movie for me, Bale annoys me with his batman voice. and Maggie Gyllenhaal as maggie is horrible. if it wasnt for these 2 factors, the movie would be perfect. Great directing and good writing.

11










Arguably the best live action superhero film ever made, with Heath Ledger's Joker being one of the finest performances I have ever seen. My movie of this decade.
27