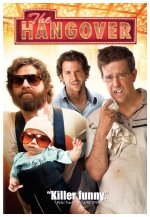 When three friends (Ed Helms, Zach Galifianakis and Bradley Cooper) finally come to after a raucous night of bachelor-party revelry, they find a baby in the closet and a tiger in the bathroom. But they can't seem to locate their best friend, Doug (Justin Bartha) -- who's supposed to be tying the knot. Launching a frantic search for Doug, the trio perseveres through a nasty hangover to try to make it to the church on time.
Comedy

16










Hated this the first time I saw it, but loved it the second. The characters are all assholes (except the one that is absent for almost the whole movie), but the premise and gags make up for that in spades.










Hilarious, start to finish with a unique plot (in a sense). One of the best comedies I've seen, and definitely the best one of 2009. A must-see, though it's not for everyone.

7










this movie was so amazing, it made me laugh so much lol
27










I'd recommend
I Hope They Serve Beer in Hell
instead. This movie was wild and wacky; Unfortunately wild and wacky is not exactly the same as funny - I was definitely expecting more laughs from this movie.










This movie delivers comedy start to finish. I actually had much lower expectations of it based on the original trailers since most comedies these days really fall short on their promise of laughs. Not this one, great cast too.










One of the funniest movies I have seen in a long time. The approach was very different from your usual comedies which gave it that special twist.

11










The best comedy of 2009, in my opinion. Consistently funny all the way through, with lots of obscure ways to make you laugh. Unnecessarily vulgar, keeps it from the perfect 5.