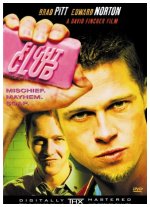 An insomnia-stricken corporate drone (Edward Norton) meets roguish rebel Tyler Durden (Brad Pitt) and together they form a cathartic but brutal underground society where men fight each other freely. But the line between reality and sleepless haze starts to really blur when propagandist Durden transforms Fight Club from a group of men rebelling against conformity into a nihilistic cult with greater malice in store. Helena Bonham Carter co-stars.
Action, Comedy, Thriller

16










Deeper than it seems at first, with a consistently rough tone. My favorite work by both Norton and Pitt. The ending will make you want to watch the whole thing again to see what stuff really meant.

3










Overrated but still good.

10










I've seen this countless times and never get tired of it, I really can't think of many movies that are better executed.
27










Layered and well done, a classic.