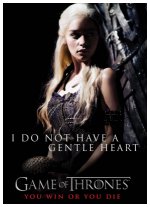 Originally airing on HBO, this live-action fantasy series -- based on George R.R. Martin's "A Song of Ice and Fire" novels -- charts the violent efforts of competing noble families to gain control of the vacant Westeros throne.

10










Great book series to turn into a show, and HBO has the budget to do it right, with higher quality in sets and wardrobe than you'll see in most movies. The first season was enough for me to buy the first 4 books as well.
27










A great fantasy series with an excellent cast, cool visuals, and an interesting story line. It really makes you want to read the book series it is derived from as well.