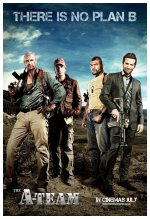 This updated feature-film take on the hit 1980s television show follows a group of Iraq War veterans on the run from U.S. military forces while they try to clear their names after being framed for a crime they didn't commit. Along the way, Col. Hannibal Smith, Capt. H.M. "Howling Mad" Murdock , Sgt. Bosco "B.A." Baracus and Lt. Templeton "Faceman" Peck help out various people they encounter. Joe Carnahan directs this high-octane actioner.
Action, Adventure, Thriller

10










Slightly predictable but supremely entertaining.
27










Similar genre to
The Losers
, but far superior. Entertaining plot, tons of action, and a few twists and turns to keep your attention. On top of that, the actors are great - with a dash of humor thrown in for flavor.