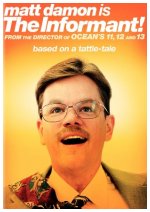 While gathering evidence against his employer, ADM in Decatur, Ill., to help the FBI build a price-fixing conspiracy case, wealthy, affable executive Mark Whitacre (Matt Damon, in a Golden Globe-nominated role) begins to piece together a fantasy world of his own. Based on Kurt Eichenwald's acclaimed nonfiction book about a true-life Corporate America whistle-blower, Steven Soderbergh's dark comedy co-stars Scott Bakula, Joel McHale and Melanie Lynskey.
Biography, Book, Comedy, Drama, Thriller

10










Hysterical movie surrounding the inner workings and supposed price-fixing conspiracies in the global corn industry. Matt Damon perfectly plays the role of an awkward and confused manipulator, who you really can't figure out until it's too late.

9










Very enjoyable movie that just got better as it went on. Packed with comedy, drama, intelligence, and plenty of twists, it is worth seeing at least once. Matt Damon gave a great performance, even if it wasn't action packed a la the Bourne trilogy.