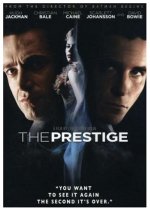 At the dawn of the 20th century, rival magicians Robert Angier (Hugh Jackman) and Alfred Borden (Christian Bale) endeavor to reveal each other's secrets. Obsessed by the escalating competition, the two illusionists begin to perform increasingly risky tricks, which soon turn deadly. Michael Caine, Scarlett Johansson and David Bowie also star in this taut psychological thriller from director Christopher Nolan.
Book, Drama, Thriller

9










Incredible movie, one of my favorites. Great performances by an a-list cast of Christian Bale, Hugh Jackman, and Michael Caine. Most will get a tad lost the first watch with the timeline shifts but the end makes it all worth it. Based on magicians.