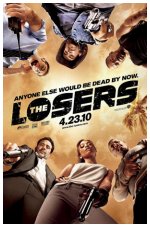 After learning that their handler, Max (Jason Patric), has set them up, a group of disavowed CIA operatives led by Clay -- aka the Colonel (Jeffrey Dean Morgan) -- bands together to bring down their betrayers in this slick action thriller. The film, adapted from the comic book series by Andy Diggle and Jock, co-stars Zoe Saldana, Idris Elba, Chris Evans, Columbus Short and Holt McCallany; Sylvain White directs.
Action, Adventure, Spy, Superhero, Thriller
27










A few high action scenes, but not an action packed movie. The comic book overtones in the beginning seemed out of place. The story lost direction a few times leaving the plot feeling disjointed - more like several vignettes than a cohesive movie.