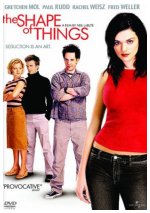 When shy, insecure English student Adam (Paul Rudd) begins a relationship with radical art student Evelyn (Rachel Weisz), she takes charge of his life and brings about extreme emotional -- even physical -- changes in him, stirring the suspicions of his closest friends. But Evelyn's motivations may be darker than Adam realizes in this adaptation of a play by writer-director Neil LaBute about the lengths to which people go for acceptance.
Drama, Indie, Romance
27










I like clever dialog as much as the next guy, but this movie went totally overboard. On top of that the acting was weak, and a bit unnatural. Luckily he overall story was interesting, so it wasn't a total loss.