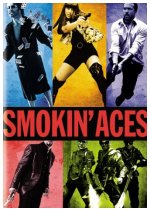 After a sleazy Las Vegas magician (Jeremy Piven) agrees to testify against the mob, he embarks on one last hurrah in Lake Tahoe before entering protective custody. But can just one FBI agent (Ryan Reynolds) keep him safe from a slew of would-be assassins? Andy Garcia, Ray Liotta, Ben Affleck, Jason Bateman and Alicia Keys co-star in this raucous cavalcade of con men, bad guys and bounty hunters.

Action, Adventure, Comedy, Thriller
27










Disappointing action movie.