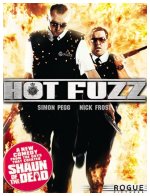 A top London cop (Simon Pegg) is ready to die of boredom when his superiors transfer him to a sleepy English village to work alongside a blundering but well-meaning young constable (Nick Frost). But soon enough, the town begins to stir with a series of grisly "accidents." Is foul play afoot in this seemingly idyllic hamlet, where nothing remotely serious ever happens? Edgar Wright (Shaun of the Dead) directs.
Action, Comedy, Spoof

16










Very much like Shaun of the Dead for its respective genre, and that's a good thing. Drags in the middle, but the really intense and satisfying finale makes up for it.

11










This is a great comedy, kind of strange ... but kick ass movie mixed with action and comedy !!!

10










This murder mystery flick takes an exciting turn half way through, and you certainly don't want to miss it. Simon Pegg offers a hilarious and unique take on buddy-cop movies here with what may be the best Pegg movie so far, and a definite a must-see!