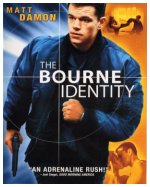 Wounded to the brink of death and suffering from amnesia, Jason Bourne (Matt Damon) is rescued at sea by a fisherman. With nothing to go on but a Swiss bank account number, he starts to reconstruct his life, but finds that many people he encounters want him dead. Bourne realizes, though, that he has the combat and mental skills of a world-class spy, but who does he work for? Doug Liman directs this blockbuster reboot of Robert Ludlum's novel.

Action, Spy, Thriller

16










Smartly done spy story, with none of the tounge-in-cheek of old James Bond or overcomplication of new Bond. Matt Damon surprisingly good actor! Bad sequels tho.
27










A solid action thriller, the pacing and flavor remind me of
Spy Game
. The cast, story, and filming are all good and tie together well in this entertaining movie.

11










Really nice plot, you'll want to see the Bourne series in order, the good acting and action packed thrill in this film gets even better in the Bourne series later on. A MUST SEE !