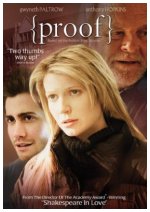 A devoted daughter (Gwyneth Paltrow) comes to terms with the death of her father (Anthony Hopkins), a brilliant mathematician whose genius was crippled by mental instability, in this John Madden-directed drama based on a Tony-winning play. Along the way, she's forced to face her own dark fears. But she has help from one of her father's former students (Jake Gyllenhaal), who searches through the dead man's papers for the source of his brilliance.
Drama

16










Obviously based on a play, since everything happens in just a couple of different locations. However, it's a *good* play, and a good adapation of it.
27










This is one of the best roles I've seen Gwyneth Paltrow play. It manages to be about hopes and fears, touching on feelings while still telling a cohesive story. The script is good, all the characters are great - a really good drama.