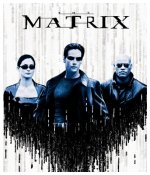 In this complex story that aspires to mythology, a computer hacker (Keanu Reeves) searches for the truth behind the mysterious force known as the Matrix. He finds his answer with a group of strangers led by the charismatic Morpheus (Laurence Fishburne). What they encounter in confronting that truth makes for a lightning-paced, eye-popping thrill ride of a movie that cleverly combines sociopolitical commentary with cutting-edge special effects.

Action, Fantasy, Martial Arts, Sci-Fi, Thriller

2










totes a good sci-fi movie with some philosophy and stuff. worth the watch.

16










Really fun, kind of illogical, very very stylish. Plot not that coherent, but it works nonetheless. Fishburne's character and acting is standout excellent. Incredible, innovative action scenes. Please, please, do NOT watch the sequels.

1










One of the best movies ever, classic of the nowadays.

10










Fun, somewhat thoughtful, and well done, all around.

11










The Matrix is a hell of a movie, it expands the mind and is packed with things that make you think " hmmm interesting "

5










wow wish this film was in 3D would have been great . Some great action scenes on the whole an average performance from every body but a great entertaining movie

9










Blew my mind! A must see, pity they made the squeals.

10










Full of Masonic, Illuminati, Egyptian symbolism. Its sub-text is what grabbed me, not the actions. Loved it.

11










A classic of the new millenium that had a profound impact on hacker culture in the 2000s. As previously stated, ruined if you watch the sequels.
27










Excellent science fiction flick, totally ruined if you watch the sequels. I recommend only watching the first movie.