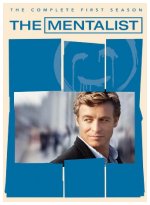 Simon Baker (in his first Emmy-nominated role) stars as Patrick Jane, a rogue detective and case-cracking consultant for the California Bureau of Investigation -- a far cry from his last gig as a semi-famous "psychic medium" with no paranormal abilities. Despite his bogus past, Patrick's charm and powers of observation endear him to the CBI team -- except for Senior Agent Teresa Lisbon (Robin Tunney), who doesn't care for his antics. Tim Kang and Amanda Righetti also star.
Drama, Mystery, TV

10










One of my favorite shows on right now. Genuinely clever writing that sometimes leaves you wondering why Jane is doing certain things until it all comes together. Likable characters too.

15










Had seen several episodes, later saw the pilot--filled in necessary information & increased my attraction to the show immensely. Consistently good writing. Well-developed characters. Now one of a handful of shows I really look forward to seeing!
27










With so many psychic shows on TV - a show where the guy is just really smart is a nice change of pace. Like
Psych
but with sarcastic wit instead of silliness. The transition between season 3 and 4 is a bit disappointing