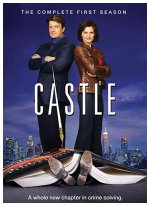 Nathan Fillion stars as Richard Castle, a bestselling mystery writer who agrees to help beautiful Detective Kate Beckett (Stana Katic) solve a string of murders that appear to be straight out of his books. Soon the two form a dynamic crime-solving team -- and quite possibly a handsome couple to boot. Susan Sullivan co-stars as Castle's live-in lush of a mother, Martha, and Molly C. Quinn is his wisecracking teen daughter, Alexis.
Drama, Mystery, TV

15










Nathan Fillion is perfectly cast as devil-may-care, boyish novelist Rick Castle, and Stanic Katic plays Kate Beckett--a police detective who is tough without losing her feminine appeal. Sparks fly. Scripts are usually good, sometimes predictable.
27










Cop show and comedy, all in one. Great story line and chemistry between the characters.