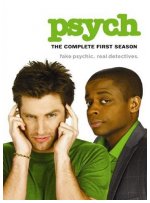 They may look like a psychic detective agency, but don't be fooled: Motor-mouth Shawn (James Roday) is just a super-observant slacker, and his ultra-cool sidekick (Dulé Hill) is just Shawn's old pal Gus. Together, the funny detective duo solves crimes in the sun-drenched streets of Santa Barbara, Calif. This quirky comedy-mystery series also stars Corbin Bernsen as Shawn's cranky cop dad and Kirsten Nelson as chief of police.
Comedy, Drama, Mystery, TV
27










The Mentalist
is an example of what this show
could have
been if they had competent writers.