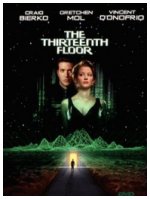 The Thirteenth Floor
1999










In director Josef Rusnak's sci-fi noir drama, scientists Fuller (Armin Mueller-Stahl) and Hall (Craig Bierko) have created a stunning virtual-reality 1930s Los Angeles. After leaving an important message for Hall, Fuller transports himself to 1998, where he's found murdered and his colleague is the prime suspect. The problem? The L.A. scene is virtual, but the murder -- and the police investigating it -- is real. Vincent D'Onofrio co-stars.
Fantasy, Sci-Fi, Thriller
27










Interesting plot until half way through the movie - at which point you basically know how everything is going to end. Kind of anti-climactic if the story arc isn't based on action and is obvious 45 minutes ahead of time.