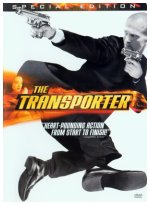 Former Special Forces officer Frank Martin (Jason Statham) will deliver anything to anyone for the right price, and his no-questions-asked policy puts him in high demand. But when he realizes his latest cargo is alive, it sets in motion a dangerous chain of events. The bound and gagged Lai (Shu Qi) is being smuggled to France by a shady American businessman, and Frank works to save her as his own illegal activities are uncovered by a French detective.

Action, Adventure, Martial Arts, Thriller
27










An interesting twist on the action movie genre, Jason Statham delivers a good performance and keeps the film fairly entertaining. Shu Qi tends to scream at anything and everything though, which can be a little annoying

9










This movie is a good shot of adrenaline. If you like cars this movie will have you wanting a BMW. The girls part though could have been better written.