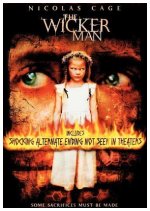 Sheriff Edward Maulis (Nicolas Cage) gets more than he bargained for when he probes a young girl's disappearance in Neil LaBute's remake of the 1973 psychological thriller. The investigation leads the sheriff to an island off the Pacific Northwest, where he encounters a populace of modern pagans. As he follows a string of disturbing clues, the trail leads him to a shocking conclusion. Ellen Burstyn, Molly Parker and Leelee Sobieski co-star.
Horror, Mystery, Supernatural

16










For a while it was so bad it was hilarious. Then it became so bad that it was actually awe inspiring. I'm giving it half a point for pouring bees on Cage.