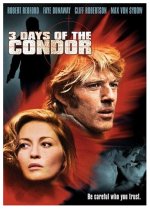 Three Days of the Condor
1975










Robert Redford stars as Joe Turner, a New York-based CIA researcher who returns from lunch to find all his co-workers murdered. In the next 72 hours, everyone Turner trusts will try to kill him, in this conspiracy thriller by director Sydney Pollack. Double-crossed and forced to go underground, Turner kidnaps a young woman (Faye Dunaway) and holds her hostage as he unravels the mystery. Max von Sydow and Cliff Robertson co-star.
Classic, Mystery, Spy, Thriller
27










The beginning was great - until they threw in the love angle with Faye Dunaway, which seemed out of place. After that the movie seemed to lose pace and slow down to half speed.
Spy Game
is a better choice for a Redford espionage film.