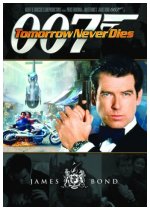 Pierce Brosnan stars as suave action hero James Bond in this continuation of the legendary 007 series, this time pairing the secret agent's continental charms with the fighting skills and intelligence of Chinese agent Wai Lin (Michelle Yeoh). The threat of World War III looms as media mogul Elliot Carver (Jonathan Pryce) pits China and Britain against each other to complete his global communications empire. But can Bond stop him in time?

Action, Adventure, Spy, Thriller
27










One of the sillier Bond films - but Jonathan Pryce really commits to the role and makes it thoroughly entertaining.