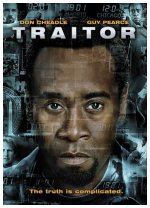 Tenacious FBI agent Roy Clayton (Guy Pearce) is assigned to pursue Samir Horn (Don Cheadle), an ex-Special Ops soldier who betrayed his country and joined the Al Nathir terrorist organization. But as he closes in, Clayton begins to second-guess Horn's true intentions. Jeff Daniels and Neal McDonough co-star in this intelligent and exciting spy thriller that also examines the beliefs and motivations behind terrorism.
Spy, Thriller

4










Don Cheadle always puts in the work I like this movie, IRON MAN 2 will rock.
27










The acting and story were pretty good, so I'm not sure why I didn't really enjoy this movie. Maybe it was a bit too realistic, not cinematic enough?