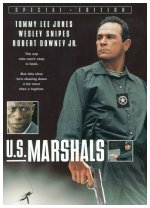 Convicted murderer Mark Sheridan (Wesley Snipes) is on his way to prison accompanied by stalwart U.S. Marshal Samuel Gerard (Tommy Lee Jones) when their jet nose-dives into the Louisiana bayou, giving Sheridan the ideal opportunity to escape. As Sheridan claws his way to freedom, Gerard and his intrepid team of fugitive-hunters are close behind. But in the process of pursuit, Gerard realizes there's more to Sheridan's case than meets the eye.
Action, Adventure, Thriller
27










Aside from a totally over-dramatized crash sequence this film wasn't horrible. Pretty much a standard Tommy Lee Jones movie. The ending was predictable at best.