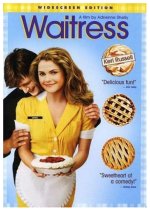 Keri Russell stars as Jenna, a waitress whose fabulous pies are about the only sweet ingredient in an otherwise dreary existence. That is, until an unwanted pregnancy breeds unexpected romance between Jenna and an attractive doctor. Written by director and co-star Adrienne Shelly (who was murdered shortly before the film's selection for Sundance), this charmer is a frank and funny examination of the fears brought on by impending motherhood.
Comedy, Drama, Indie, Romance
27










Nathan Fillion manages to be funny, but I don't know who wrote this dialog - it's a disaster. Andy Griffith was actually sort of amusing, I didn't know he was still acting.