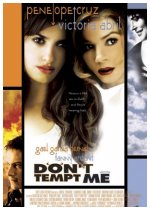 A concussive brain injury could spell curtains for a boxer named Manny (Demian Bichir). But no sooner does a priest begin to spout the boxer's last rites than a couple of supernatural agents -- an angel from heaven (Victoria Abril) and a waitress from hell (Penelope Cruz) -- are sent to vie for his soul. A unique, enjoyable film that makes comic use of languages.
Comedy, Fantasy, Foreign
27










Foreign with subtitles. Penelope Cruz does a brilliant job with her role in this film - and the rest of the cast is decent too. It has a very laid-back pace that seems slightly too slow at times, but overall it's an amusing movie.