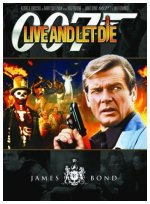 Roger Moore steps in as the suave, sophisticated Agent 007 in this eighth Bond installment. Bond's investigation of the murders of three fellow agents in New York soon puts him on the trail of Mr. Big (Yaphet Kotto), a Harlem crime boss plotting a globally threatening scheme involving tons of self-produced heroin. Jane Seymour plays Mr. Big's Tarot card reader, the beautiful Solitaire, whose loyalties are quickly cultivated by the charming Bond.

Action, Adventure, Spy, Thriller
27










Jane Seymore is one of the best Bond girls, and Roger Moore plays a good 007. Unfortunately this film just makes him a glorified DEA agent with some gadgets, which isn't a bit disappointing.