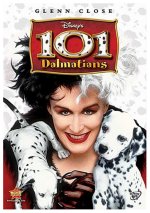 In this live-action version of the beloved Disney classic, Dalmatians Pongo and Perdy and their human owners, Roger and Anita (Jeff Daniels and Joely Richardson), are overjoyed by the arrival of 15 puppies. But the spotted-fur-loving Cruella De Vil (Glenn Close) dognaps the litter. To save all their new friends, Pongo and Perdy must rally all the city's animals to come to their rescue and defeat Cruella and her clumsy henchman, Jasper and Horace.
27










The cast is excellent in this fairly good live-action rendition of the classic
101 Dalmatians
animated movie. Got a bit slapstick at the end, but the only part that hasn't aged well is the animated drainpipe sequence.