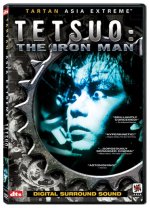 Tetsuo: The Iron Man
1989










Soon after he accidentally runs down a man with a fetish for implanting scrap metal into his body (Shinya Tsukamoto, who also directs), a businessman (Tomorowo Taguchi) begins eerily morphing into a hybrid man-machine, accompanied by twisted, metal-related nightmares. Is the metal fetishist somehow controlling the transformation? Now, the businessman must track down the man he thought he killed before the horrific metamorphosis is complete.
Foreign, Horror

14










It is odd that a film leaves me dumbfounded and questioning why it exists at all. In that regard Tetsuo: The Iron Man is something different. It is also an incomprehensible and depraved mess with no redeeming quality outside of its strangeness.
No comments found, be the first!