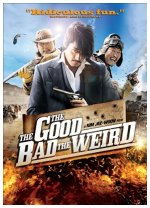 The Good, the Bad, the Weird
2008










On a train crossing the Manchurian desert, an unlikely trio -- good bounty hunter Park Do-won (Woo-sung Jung), bad gangster Park Chang-yi (Byung-hun Lee) and weird train robber Yoon Tae-goo (Kang-ho Song) -- unite to find a treasure map's promised loot. Racing through the unforgiving landscape, they stay one step ahead of rivals and the Japanese army. Ji-woon Kim directs this Sergio Leone-inspired adventure.
Action, Adventure, Foreign

7










Alright, Devilishly Handsome and Just Different comparing to "The Good, The Bad and The Ugly"