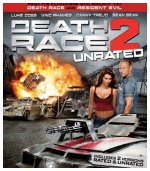 This prequel to the 2008 sci-fi actioner Death Race tells the story of cop killer Carl "Luke" Lucas (Luke Goss), who is sentenced to the infamous Terminal Island, where his driving skills in the prison's brutal car races earn him the nickname "Frankenstein." The internationally broadcast races feature the best drivers and most violent offenders in the criminal world, and Lucas takes on all comers to save his life and establish his legend.
27










I didn't have high hopes for this prequel, but it was actually good - what
Death Race
should have been. More story but still plenty of action, without the 'good guy in jail' nonsense.