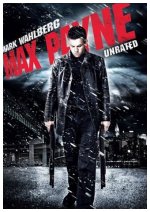 Mark Wahlberg stars as title character Max Payne in this gritty noir crime thriller that centers on an undercover New York City DEA agent (Mila Kunis) who teams up with a female assassin to avenge the murder of her family. Filmmaker John Moore directs this big-screen video game adaptation with supporting performances from Beau Bridges, Christopher "Ludacris" Bridges, Chris O'Donnell and Donal Logue.
Action, Adventure, Thriller










Awesome movie. Mark Wahlberg did a supreme acting job in this one.

10










Well done, with an immersive dark mood and setting straight from the video game, and Mark Wahlberg plays the character perfectly, but the plot-line is lacking in convincing character buildup leaving a over-dramatized feeling and a few cheesy moments.










The video game this was based off of was better and actually ended up feeling more like a movie than the actual film
27










Mark Wahlberg was perfect as Max. This delivers the feel of a comic book/video game realistically, unlike the stylized visuals of films like
Sin City
. Mila Kunis should have had a Russian accent though, her character seemed a bit soft without it.










Unbelievably bad. Had all the elements of a good movie but completely flopped by falling into absurdity and nonsense.