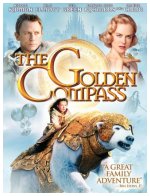 After overhearing a shocking secret, precocious orphan Lyra Belacqua (Dakota Blue Richards) trades her carefree existence roaming the halls of Jordan College for an otherworldly adventure in the far North, unaware that it's part of her destiny. Nicole Kidman, Daniel Craig and Sam Elliott co-star in this fantasy-laden family adventure based on the first book of the Philip Pullman trilogy His Dark Materials.
Adventure, Book, Drama, Fantasy, Sci-Fi
27










A great fantasy movie with a neat story and an excellent cast. Dakota Blue Richards is perfect for her role, and shines as the star of this film. My only complaint is that the ending is so open for a sequel that it felt like half a movie.